All-rounder oats – what you should know about oats
May 14, 2021
You are looking for a healthy and warm breakfast full of minerals and vitamins? You also want to stay full for a long time?
Then oatmeal is just the thing for you. We show you everything you need to know about oats.
How are oats produced?
All natural substances contained in the oat grain should be preserved as far as possible. A controlled organic cultivation ensures that the oats retain their good nutrients. During the conventional milling process of grain, important ingredients are usually lost. In the production of oat flakes, the whole grain is processed. The different types of flakes contain all the relevant parts of the grain.
The raw oats are then further processed into delicious muesli or porrdige mixes. Oats are harvested in late summer. This requires state-of-the-art machinery. In this case, the oat grain is extremely carefully separated from the stalk. The oats are then delivered to the oat mill. Quality control is of great importance here. The grain is checked for appearance and odor with the help of modern technology.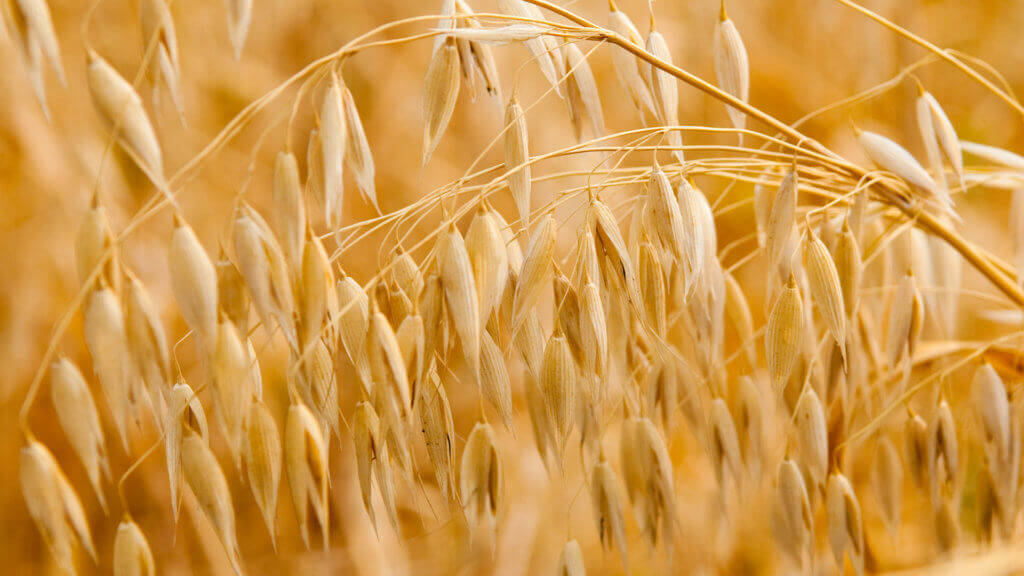 The extraction of oats step by step
Here we show you again how the valuable grain is extracted for your porridge.
Cleaning
First, the grain must be cleaned and sieved. This way it can be freed from weed seeds, straw and any foreign grain. Any metallic objects can be sorted out with magnets. Small stones can also be easily separated from the oats.
The oat kernels are sorted by length during extraction. Afterwards, the oat kernel must sweat extensively. The tubes are very hot. Due to the high temperatures, the oats gain in shelf life and flavor. This process is called kilning.
Dehulling
Now the husks, the outer hulls of the oat grains, are removed. The oats are placed on a rotating robot and are thrown against the impact ring. The impact causes the husks to separate from the grains. The blower then sucks up the husks.
Rolling
The flakes can now be processed further. The oat kernels are sorted by size and rolled into flakes. The kernels are then heated with steam; this makes the flakes more elastic. The large flakes are obtained from the grain. Other flakes are processed into oat groats and small flakes.
In what foods and products are oats used?
As mentioned above, different types of flakes are obtained by production. Mostly cereal flakes are available pure, in the form of muesli or as oatmeal. Muesli bars also often contain a high proportion of oat flakes. Meanwhile, there are also oatmeal, desserts such as oat cookies, oat milk or oat bread.
Oat flakes
In England, porridge has long been a very popular breakfast. Meanwhile, many countries around the world have discovered the healthy breakfast for themselves. To prepare the porridge you need to mix the oatmeal with milk or water.
Already in the 18th century farmers cooked up the oats with water or milk as a delicious dish. Porridge appeared at the beginning in English cookbooks. Here the oatmeal was often enriched with butter, pepper, wine or sherry.
Oatmeal: Warm breakfast as a satiator
Oatmeal is in no way a fattener. Oatmeal provides you with important complex carbohydrates and contains plenty of protein. Porridge also contains a high amount of fiber, which keeps you full for a long time.
Dietary fiber is a long-chain carbohydrate that causes blood sugar levels to rise slowly. So cravings are avoided. Due to the high percentage of protein, oatmeal is also the ideal sports food. Oatmeal is in no way just a healthy breakfast. You can also enjoy the porridge as a snack.
Print Recipe
Porridge basic recipe – sugarfree and vegan
The Scottish porridge is very easy and quick to prepare. You only need three
ingredients for the basic recipe and then you can add your favourite fruits and
spices.
Ingredients
180

ml

milk or plant-based drink

3-4

tbsp

oat flakes

1

pinch of salt
Instructions
Bring the milk (or plant-based drink) to a boil in a pot.

Add the oat flakes and turn the heat down to a low temperature.

Let the porridge simmer for about 5 minutes (stir constantly with a wooden spoon or a spurtle so that the milk does not burn and the porridge gets a nice creamy texture).

Remove the pot from the stove and allow the porridge to simmer until it has the right consistency

Add a pinch of salt at the end. This enhances the taste of the porridge even more, whether you want to enjoy your porridge with sweet or savoury toppings.
Warm breakfast to your taste
Oatmeal can be prepared individually with just a few ingredients. Whether you top it with nuts, dried fruit or cocoa nibs. Toppings are essential and make breakfast extra delicious.
Muesli: Pure nutrients and minerals
You can also enrich your muesli with oatmeal. Muesli is usually enjoyed with milk, yogurt and plenty of fruit or berries. Of course, you can also enjoy it with fruit juice, a vegetable milk and some nutmeal.
Muesli is a complete meal and provides your body with important nutrients, minerals and a lot of fiber. This gives you plenty of energy. Oatmeal is very digestible, contains valuable protein, vegetable fats and plenty of vitamins such as vitamin E, B vitamins and minerals such as iron, phosphorus, magnesium and zinc.
Why are oats so healthy?
There are many reasons why the oat grain is so healthy. In addition to increased brain power, the numerous fibers are the reason for the domestic superfood.
High amount of fiber
Oatmeal keeps you full for a very long time. This is due to the high amount of the soluble fiber beta-glucan. Oat beta-glucan lowers blood sugar and cholesterol levels and can prevent cardiovascular disease1. In addition, oats are good for digestion. The emptying of the stomach is slowed down by the fiber.
Oats can help you lose weight. You stay full longer and consume fewer calories. The German Nutrition for Society recommends eating 30 grams of cereal daily. The National Center for Biotechnology Information has published a study for this on the topic – fiber and satiety: The Effects of Oats on the Sense of Satiety. 2 From this, it can be concluded that oat beta glucan may have positive effects on the feeling of satiety. Further studies are to follow.
Positive influence on cholesterol
Heart disease is usually due to high cholesterol. The dietary fiber beta-glucan can lower cholesterol levels. For this, approximately 80 grams of oatmeal must be consumed daily. Beta-glucan also slows down the absorption of fat and cholesterol.
Help with diabetes type 2
Oatmeal is also highly recommended for type 2 diabetes. This is because oats ensure a constant blood sugar level. Sensitivity to insulin is positively influenced. The stomach empties more slowly and your blood absorbs less glucose.
Help with constipation
If you suffer from stomach pain, you should try oatmeal soup. This is gentle on your stomach and positively stimulates digestion. While laxatives can cause weight loss, especially in older people, oats are a healthy alternative.
The outer covering of oats is particularly effective for constipation. Oat bran contains the outer hull in a concentrated form. If you eat a soup or dessert with oats every day, you will benefit from regular digestion.
Oatmeal is full of antioxidants
The oat grain contains many antioxidants and polyphenols. These include avenanthramides, for example. The antioxidants lower blood pressure. They can also reduce inflammation and itching. Antioxidants protect your body from free radicals and thus from premature aging.
What you should know about oats
The cereal flakes are full of precious minerals and vitamins. Due to the numerous possibilities of preparation, the cereal flakes are particularly popular and varied. Whether in a delicious muesli or as a warm breakfast in the form of porridge, the cereal flakes keep you full for a long time and prevent numerous diseases. In addition, you start the day with enough energy and increase your brain power.
Cereal flakes can even help you lose weight. You eat fewer calories and cravings are avoided. Nevertheless, you do not have to do without important carbohydrates. The extraction of the cereal grain is very careful, so that all important ingredients are preserved. In addition, you should make sure that it is organically grown.
At Verival, we offer you numerous mueslis, porridges, crunchies, nut and sate mixes that have been lovingly created from the best organic raw materials. Another advantage of oats: It is a domestic superfood, is grown in Germany and is therefore particularly sustainable.
1. Dietetic Products N EFSA Panel on, Allergies (NDA). Scientific Opinion on the substantiation of a health claim related to oat beta glucan and lowering blood cholesterol and reduced risk of (coronary) heart disease pursuant to Article 14 of Regulation (EC) No 1924/2006. EFSA Journal. 2010;8:1885. doi:10.2903/j.efsa.2010.1885
2. Rebello CJ, O'Neil CE, Greenway FL. Dietary fiber and satiety: the effects of oats on satiety. Nutr Rev. Published online January 2, 2016:131-147. doi:10.1093/nutrit/nuv063
Previous post
Porridge for children - a healthy start to the day
#oatmeal
#Porridge
#porridge healthy
#porridge recipe
#verival bio
#verival oat flakes
#verival porridge
Products from this post