Do Chia Seeds Have Side Effects?
March 17, 2020
Gesund leben
Healthy lifestyle
Nutrition
Before consumption, chia seeds need to be soaked in liquid so that they swell up. If the seeds are eaten raw and without liquid, they will clump together in the intestines and cause constipation.
Constipation can also occur if the intestines are not used to a high-fibre diet. Too much fibre can also cause diarrhoea and flatulence. In rare cases, this causes chronic inflammation in the intestines. If people are sensitive to excessive amounts of dietary fibre, the chia seeds should be divided into several portions per day.
If you already have health problems, you should consult a doctor before eating chia seeds. The omega-3 fatty acids have a natural blood-thinning effect. If you are taking blood-thinning medication at the same time, it is not advisable to eat chia seeds.
If chia seeds are consumed in excessive quantities, side effects may occur in rare cases due to the chia seeds themselves. Since chia seeds belong to the sage family, allergic reactions can occur, for example. There are cross-allergies with mint, rosemary and thyme. Therefore, you should watch out for watery eyes, breathing problems and skin rashes.
It is recommended not to exceed the daily maximum of 15g, as there are currently no long-term studies on the effects of chia seeds in Europe.
As chia seeds do not contain gluten, they can be consumed by people with gluten intolerance. However, it is important to buy only organic chia seeds so that no pesticides are ingested.
What exactly are chia seeds?
The chia plant belongs to the genus Salvia (sage). Originally from Mexico, the plant was spread by the Spanish conquistadors after their return to Europe. Today, the Chia plant is mainly cultivated in South America, Mexico and Australia. The seed pods are harvested in October and gently air-dried.
Chia seeds contain a large amount of omega-3 fatty acids, proteins and fibre. They offer many health benefits and are therefore considered a superfood. But do the small black seeds have side effects in addition to their numerous positive properties? Find out more in this article.
What do chia seeds do to the body?
Chia seeds contain 20% vegetable protein. The proteins secure the protein supply and support the development of muscles.
Calcium, phosphorus and magnesium are needed to build bones and teeth. The superfood contains five times as much calcium as milk. The daily requirement is already covered by eating 15 grams of chia seeds.
The seeds consist of 38% chia oil. This is mainly composed of omega-3 fatty acids, which promote the elasticity of the vascular walls. They have a positive effect on cholesterol levels and help to lower blood pressure.
Low blood pressure relieves the cardiovascular system and reduces the risk of cardiovascular disease. The consumption of chia seeds also increases the release of messenger substances such as serotonin, which helps to cope with stress more easily.
Chia seeds also contain many vitamins. Vitamin B1, B3 and vitamin E support the function of the nerves. The connective tissue is strengthened by the increased formation of collagen fibres. The hair grows strong and shiny. The vitamins also promote the defence activity of the immune system.
This is additionally supported by the antioxidants contained in the superfood, which also make our skin glow. Free radicals are intercepted and neutralised by the antioxidants. Premature cell ageing is prevented. Micro-inflammations heal faster in the body.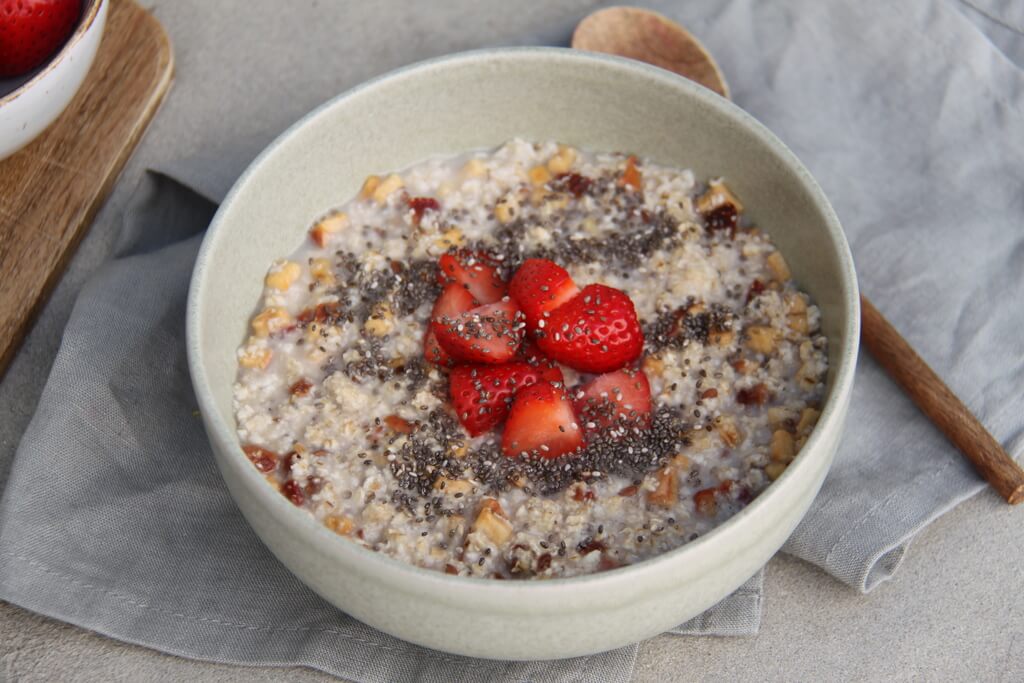 Chia seeds also contain lots of healthy fibre. Eating them regulates digestive activity and promotes the balance of the bacterial flora in the intestines. In addition, the dietary fibres cause a long feeling of satiety, which means that chia seeds can also help with weight loss. By relieving the pancreas, the blood sugar levels also decrease.
How many Chia seeds can I eat a day?
Since there is still too little information available on the long-term consumption of large amounts of chia seeds, a maximum daily dose of 15 grams is currently recommended. This amount corresponds to about 1.5 heaped tablespoons of the superfood. Excessive consumption of chia seeds can cause side effects.
Why are chia seeds considered healthy?
Chia seeds are considered healthy because they contain many valuable ingredients. The high fibre content supports weight loss and the reduction of body fat. The immune system is supported. By regulating the cholesterol level, no harmful fats are deposited on vascular walls. The risk of thrombus formation is reduced.
The unsaturated alpha-linolenic acid contained in chia seeds supports the build-up of DHA and EPA, two long-chain fatty acids. These have an anti-inflammatory effect and help to eliminate cells with an abnormal division rate.
Chia seeds are often used in healthy breakfasts. For example, as a topping in porridge. However, despite the positive effects, side effects can also be triggered by chia seeds.
Chia Seed Recipe – Raspberry Chia Pudding
Print Recipe
Chia seed pudding with raspberry
Chia seeds as a small sweet breakfast or the perfect snack for in between.
Ingredients
2

teaspoon

Chia seeds

1

package

Vanilla sugar

100

ml

milk or vegetable drink

fresh raspberries
Instructions
Infuse the chia seeds and vanilla sugar with milk or vegetable drink of your choice.

Blend fresh raspberries and mix with some or all of the pudding.

Leave to swell in the fridge for at least 2 hours, better overnight.

Top with berries and chia seeds if desired.
Notes
Chia seed pudding with delicious raspberries. Super refreshing for breakfast and the perfect afternoon snack! pssst…or in the morning at the office 😉
Nutrition
Previous post
Recipe: Raspberry Chia Pudding
#Ballaststoffe
#Chia
#Chiasamen
#ernährung
#frühstück
#wirkungen
Products from this post
Chia seeds (Salvia Hispanica) are the perfect topping for a healthy breakfast. The high-fibre chia seeds stimulate digestion and provide you with fresh energy for the day.
See details
Chia Seeds
Content
200 gram
(€16.45 * / 1000 gram)
More from this category Gesund leben
More from this category Healthy lifestyle
More from this category Nutrition