Is porridge actually easy to digest?
August 17, 2020
Healthy lifestyle
Nutrition
The oat porridge is a millennium-old breakfast, known for its nourishing ingredients. And nowadays the porridge is on everyone's lips. Especially in recent years, the oat mixture has become a pioneer due to its many advantages.
In this article we will find out how healthy porridge really is and whether the popular oat breakfast is really as easy to digest as it is said to be, and we will also send you some delicious Porridge ideas to make your start to the day perfect.
What exactly is porridge?
The word porridge comes from British English. In America the famous porridge is called "Oatmeal". But no matter how you want to put it, the main ingredient of porridge is usually oats. Ground oats have been consumed by humans for centuries and were long considered a food of the poorer classes. Today, things are a bit different. Oats are now very popular with all sections of the population and have been growing in popularity for years due to its regional character and easy availability.
Oats are a staple food and are produced on a large scale in large parts of Austria and Germany. Oats are therefore usually available locally and do not travel unbelievably long distances, which also keeps your personal CO2 balance low. The environment will thank you in any case!
Porridge as Superfood – Oats as Superfood!
It is often said that porridge belongs to the so-called superfoods. This refers to products that contain a variety of healthy substances and are therefore very healthy. Porridge was not always as popular as it is today. It was often said that porridge is not quite as healthy because it contains a lot of fats, but this misconception, which was created back then, has now been largely refuted. The fats contained in oats are even healthy for the body!
Why is porridge so healthy?
We have already spoken about the mono- and polyunsaturated fats contained in oats. These are essential for the body and should not be missing from any healthy diet. If you want to pay special attention to this, you should definitely top your porridges with nuts.
These are particularly rich in fat and healthy. But the flakes are not only adorned with fatty acids. Porridge contains a lot of protein, various vitamins and a lot of minerals and fibre. Especially the oats in porridge provide an extremely healthy effect.
Porridge keeps your blood sugar level constant – oats contain among other things vitamin B1, B6 as well as zinc, iron and magnesium. Now you know why it deserves the name Superfood! So maybe you should try porridge after all? You're sure to find it here – now even in our large XXL packs. So that you don't have to re-buy so often.
Porridge and digestion?
So, is porridge easy to digest or not? Above we have already talked about the fibre content of oatmeal. This is very high – and that means that porridge is also very good for digestion! Fibre is good for the intestinal flora and cleans your intestines. But for this to work well, you should exercise enough and drink enough. Otherwise the opposite effect can occur.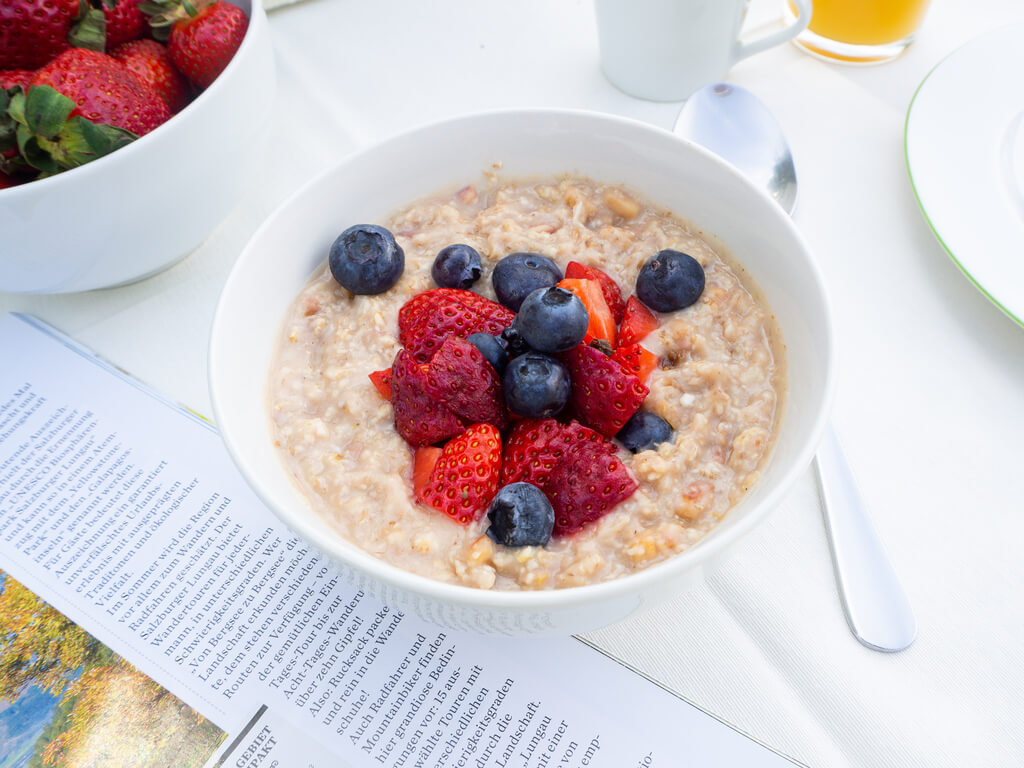 But basically, it can be said that porridge has many advantages for your digestion. So, a bowl of porridge in the morning is a good choice – not only because of the fibre. The fact that you eat porridge warm helps your body to digest more easily. Hot breakfast is healthier around corners than cold. This was already known in Traditional Chinese Medicine 😉
Celiac disease and oats? Do they go together?
For many people with gluten allergy or even coeliac disease, many forms of grain are basically taboo. Is oat a problem here? This answer needs some explanation. If you like porridge, you should definitely make sure that you choose the gluten-free variety. Oatmeal is usually gluten-free as long as it has not come into contact with other grains containing gluten. However, you can be on the safe side if you simply look for the gluten-free sign.
Porridge for breakfast – warm and healthy for the day!
For the perfect start into the day, we recommend a bowl of our many different porridges – or maybe try something a little more unusual? We currently have our new Porridge Smoothie Bowls fresh in our online shop. Simply cook them warm in water, milk or the plant drink of your choice and enjoy! There is almost no better way to do it 😉
Print Recipe
Porridge Smoothie Bowl Mango-Passion Fruit
Ingredients
50

g

Porridge Smoothie Bowl Mango-Passion fruit

120

ml

water, milk oder plant drink

1

passion fruit

1

tbsp

coconut flakes

50

g

mango
Instructions
Put 50 grams of the Verival Porridge Smoothie Bowl in a bowl.

Next, add 120 ml of water, cold milk or plant drink and mix the liquid well with the base.

Leave the mixture to steep for 1 minute and then add toppings of your choice to your Porridge Smoothie Bowl.

Fresh fruit goes perfectly with this Smoothie Bowl. That's why we topped it with mango, passion fruit and coconut flakes.
Previous post
Recipe: Gluten-free Overnight Oats with berries
Next post
6 reasons why oats are so healthy!
#breakfast
#digestion
#healthy diet
#nutrition
#organic porridge
#Porridge
#Verival
Products from this post
Your Superfood Porridge! Oatmeal with gluten-free oat flakes, fruity strawberries and the superfood chia seed. 100% organic, vegan and without added sugar.
See details
Strawberry-Chia Porridge
Content
350 gram
(€14.26 * / 1000 gram)
Your favourite porridge! The oatmeal is based on the original Bircher recipe with gluten-free oat flakes, apples and almonds. 100% organic, vegan and no added sugar.
See details
Bircher Porridge
Content
350 gram
(€14.26 * / 1000 gram)
For all who like it pure! Oatmeal base mix with gluten-free oat flakes, sunflower seeds and psyllium husks. 100% organic, vegan and without added sugar.
See details
Classic Porridge 1500g
Content
1500 gram
(€9.33 * / 1000 gram)