Recipe: Porridge Smoothie Bowl Mango-Passion fruit
July 27, 2020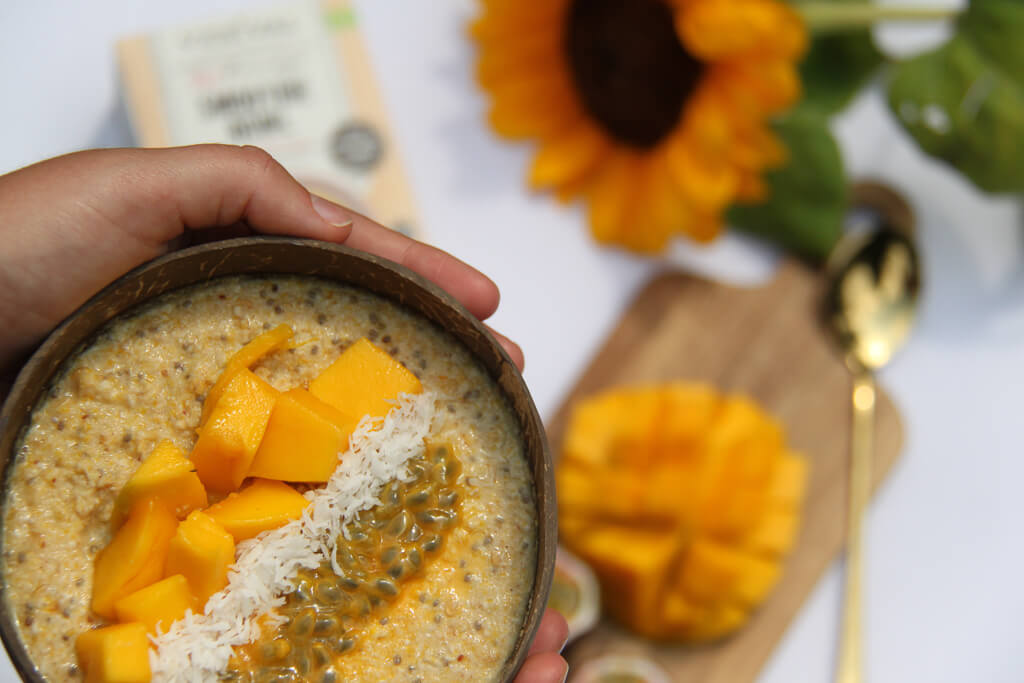 Fancy a nice Smoothie Bowl on a hot summer day? Then our recipe for a fruity Porridge Smoothie Bowl is perfect for your healthy breakfast.
The basis for this recipe is the Verival Porridge Smoothie Bowl in the flavor mango-passion fruit. The Smoothie Bowl is based on gluten-free wholemeal oatmeal and also contains chia and linseed, which makes it very satisfying. Furthermore, the Smoothie Bowl contains many important vitamins.
The Smoothie Bowl is prepared in just a minute, making it the ideal breakfast for a quick but healthy breakfast.
After preparing the Smoothie Bowl you can also refine it with toppings of your choice and compose it according to your taste.
Print Recipe
Porridge Smoothie Bowl Mango-Passion Fruit
Ingredients
50

g

Porridge Smoothie Bowl Mango-Passion fruit

120

ml

water, milk oder plant drink

1

passion fruit

1

tbsp

coconut flakes

50

g

mango
Instructions
Put 50 grams of the Verival Porridge Smoothie Bowl in a bowl.

Next, add 120 ml of water, cold milk or plant drink and mix the liquid well with the base.

Leave the mixture to steep for 1 minute and then add toppings of your choice to your Porridge Smoothie Bowl.

Fresh fruit goes perfectly with this Smoothie Bowl. That's why we topped it with mango, passion fruit and coconut flakes.
Other delicious recipes, such as one for carrot cake porridge, banana bread porridge or a sugar-free granola can be found on our blog.
#Porridge
#porridge smoothiebowl
#recipe
#smoothiebowl
#Verival
Products from this post
More from this category Recipes