Always ready to hand: Homemade muesli bars with Verival Coconut and Apricots Muesli
September 28, 2018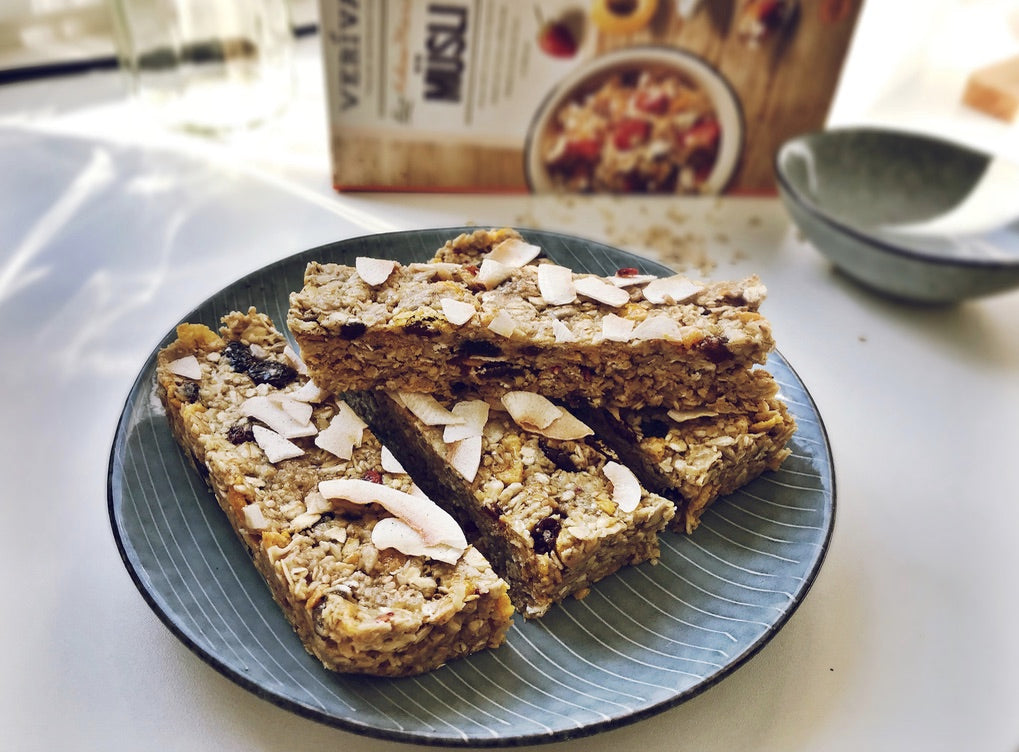 Whether as a fully adequate breakfast or a snack for in-between: you can enjoy your homemade muesli bars with Verival Muesli with Coconut and Apricots whenever and wherever you like. They not only taste delicious but are so handy as they are always ready to hand when there's little time for breakfast!
Print Recipe
Muesli bars with Verival Coconut and Apricots Muesli
Ingredients
190

g

Verival Muesli with Coconut and Apricots

70

g

(gluten-free) Rolled oats

3

tbsp

Sesame

50

g

Sultanas (or different dried fruit of choice)

30

g

Cashews (or different nuts of choice)

120

g

Honey (or agave nectar)

120

g

Cashew butter (or almond butter)

1

tsp

Cinnamon
Notes
Mix together the Verival Muesli with Coconut and Apricots, the sesame, the sultanas, the cashews, the cinnamon and a pinch of salt.
Lay out a rectangular tupperware with parchment paper.
Carefully heat the honey and cashew butter in a pan, stir constantly.
Now mix together the dry and wet ingredients until all the flakes are fully covered with the honey-cashewbutter mix. Spread the mixture in the prepared tupperware and use another layer of parchment paper and your hands to press the ingredients down. The muesli bars should be as compact as possible.
Put the tupperware uncovered in the freezer compartment for approximately 30min. Afterwards use a knife to cut the muesli bars and store them in the fridge. Attention: high temperatures turn the home made bars soft.
More from this category Recipes