Nuts and their nutrients – find out why they are so healthy
April 14, 2020
Gesund leben
Healthy lifestyle
Muscle building
Nutrition
Nuts are excellent sources of nutrients – not only do they provide us with healthy fats, they also supply us with plenty of vitamins, minerals and trace elements. They should therefore not be missing in any nutritional plan.
Nevertheless, many people label them as calorie bombs and avoid them in their diet in order to save calories. But why this is not a good idea, why it is even worth covering part of your daily requirements in the form of nuts, and how you can easily integrate nuts into your healthy power breakfast in the morning, is explained in this blog post.
Why are nuts so healthy?
The reason why nuts should by no means be avoided is quite simple. They contain not only plenty of healthy fats and proteins, but also a multitude of important vitamins and minerals.
They not only ensure excellent brain performance, but also contribute to a healthy cardiovascular system and a strong immune system.
These nutrients are contained in nuts
So now we know that nuts are very healthy because of their multitude of nutrients. We will now explain which nutrients these are and what function they have in your body.
Healthy fats from nuts
Nuts contain a lot of fat – this may not sound very positive, but if you take a closer look, it actually is. Because the content of healthy, unsaturated fatty acids is particularly high in nuts. These include omega-3 fatty acids, which not only protect the body from harmful free radicals, but also reduce the risk of cardiovascular disease.
Nuts as a vegetable protein source
Nuts are excellent sources of protein and therefore play an important role in maintaining and building our muscles. It is not without reason that nuts and nut mixes are a very popular snack for athletes. Peanut butter has also been one of the favourite products of athletes for some time now.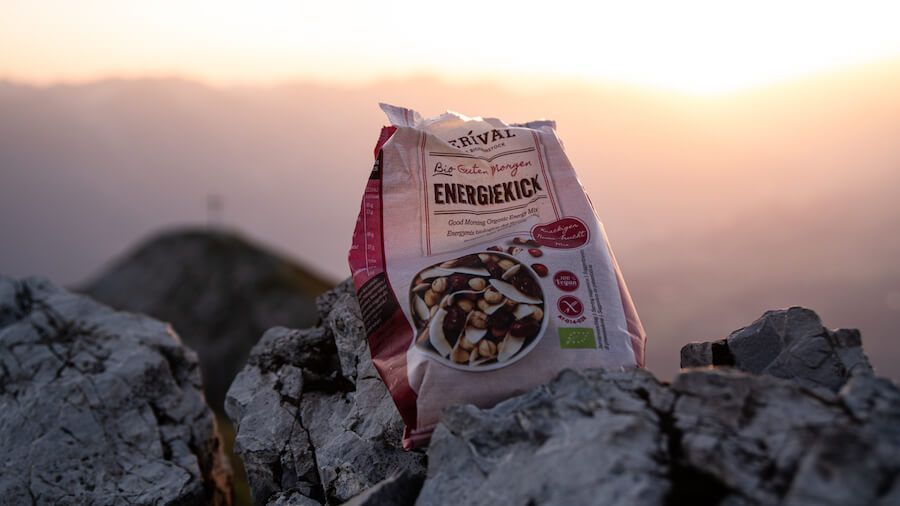 Many dietary fibres in nuts
The high fibre content supports our gastrointestinal tract and ensures a stable blood sugar level. Fibre-rich foods also keep us full longer and prevent us from reaching for unhealthy snacks in between.
Nuts as a supplier of vitamins
Nuts also provide plenty of vitamins. Especially the content of B vitamins and vitamin E is outstanding.
While B vitamins activate the metabolism and play a decisive role in blood formation, vitamin E has an antioxidant effect and protects the organism from harmful molecules. It also has an anti-inflammatory effect and supports the immune system, the nervous system and the skeletal muscles.
Nuts contain many minerals
Nuts are an excellent supplier of essential minerals. For example, calcium and magnesium ensure healthy bones and teeth. Iodine, on the other hand, ensures that the thyroid gland functions optimally, as it plays a decisive role in the formation of thyroid hormones.
Nuts also contain copper and manganese – while manganese is an important component of various enzymes, copper plays a decisive role in blood formation and thus influences our immune system.
Other important trace elements like zinc, selenium or iron are also provided by the consumption of nuts. These minerals not only ensure a regulated sequence of metabolic processes, but also support the organism in combating free radicals and thus protect against cell damage.
That's why nuts are good for the brain
Especially the trace elements contained in nuts (zinc, iron, magnesium, etc.) positively influence brain activity. For example, magnesium is crucial for the supply of energy in the brain and also protects the nervous system from stress.
The building blocks of proteins, amino acids, are an essential component of important nerve messengers and thus, if sufficiently available, provide for an improved ability to think and have a positive effect on the psyche and mood.
The B vitamins and vitamin E are good for the nerves and protect the brain from calcification, among other things. Since nuts are excellent suppliers of healthy fats – and these in turn are an important component of nerve cells – they ensure an optimal structure and functionality of the brain.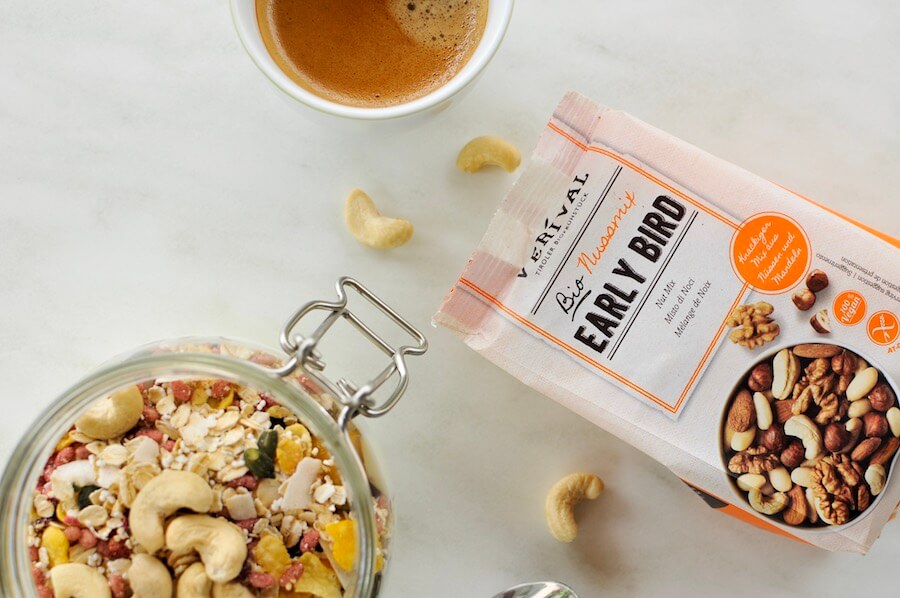 The high content of lecithin also has a positive effect on our brain – the active ingredient it contains strengthens our brain and nerve cells and increases our ability to concentrate, among other things.
The most important nut varieties at a glance
Surely you already know most of the nut varieties – nevertheless we would like to briefly go into the most important representatives and highlight the special features to give you a good overview.
Walnuts
The walnut is a particularly good source of unsaturated fatty acids and thus contributes to a healthy cardiovascular system. In addition, it is rich in vitamin B6 and zinc, thus ensuring excellent concentration and a strong immune system
Hazelnuts
Hazelnuts are particularly rich in fat and contain plenty of vitamins. In particular, vitamins B7 and vitamin E are contained in high quantities – while vitamin B7 has a positive influence on hair growth, numerous metabolic processes and the nervous system, vitamin E ensures a healthy immune system through its antioxidant effect. The copper and manganese content, which is particularly high for this type of nut, should also be emphasised.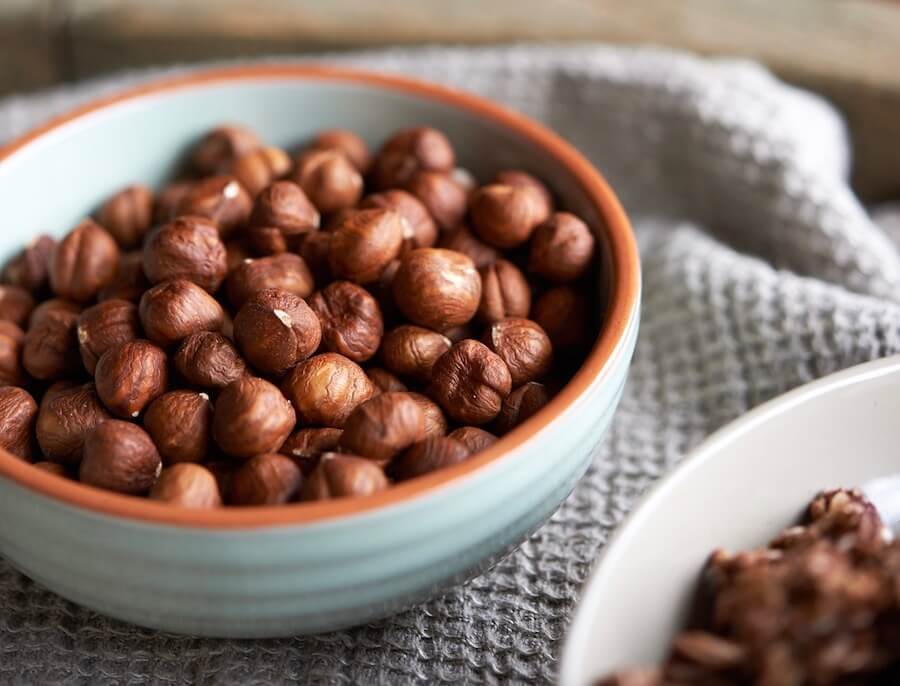 Peanuts
To be more precise, peanuts are pulses, but we do not want to leave them out. The peanut is considered to be the highest-protein variety and for this reason is particularly popular with athletes. In addition, peanuts are rich in fibre and contain many vitamins – particularly noticeable is the high vitamin B3 content, which is very important for energy metabolism and regeneration of the body. The amount of minerals and trace elements such as magnesium, copper and zinc should also be mentioned.
Cashews
Compared to other types of nuts, the cashew nut contains less fat, but a higher content of carbohydrates. Not only does it provide abundant magnesium and phosphorus, but especially a large amount of copper. This trace element is particularly important for optimal functioning of the nervous system.
Brazil Nuts
The Brazil nut is not only particularly rich in minerals (selenium, copper & phosphorus), but also provides plenty of vitamin B1. B vitamins play a decisive role in carbohydrate metabolism and thus influence our nervous system, brain and muscle function. However, since the fat content is very high, Brazil nuts should only be consumed in small quantities.
Almonds
Almonds are particularly rich in protein and fibre. Furthermore, not only the vitamin E content should be emphasized, but also the amount of trace elements and minerals should not be neglected.
Pistachios
Pistachios are rich in vitamins, minerals and trace elements and therefore not only strengthen your immune system but also contribute to a healthy cardiovascular system.
Pecan nuts
Due to its high fat content, the pecan nut is one of the highest-calorie nuts. Therefore, you should only eat them in small quantities. Nevertheless, it is advisable to incorporate them specifically into the diet, as the pecan nut contains many unsaturated fatty acids and thus contributes to a healthy cardiovascular system. It is also rich in vitamins B1 and B7 and has an exceptionally high content of copper, manganese and zinc.
Macadamia
The macadamia nut consists of almost 75 percent fat and thus even surpasses the other nut varieties. It should therefore only be added in small quantities. Nevertheless, it is worthwhile to eat at least a small amount, as it consists mainly (almost 80%) of unsaturated fatty acids, which have a positive effect on the cholesterol level and thus have a positive influence on the cardiovascular system.
It is difficult to say which nut variety is the healthiest for you, as each variety has its advantages. It is best to mix the nuts crosswise to benefit from the advantages of all varieties.
Do nuts help you to lose weight?
Despite their high fat content and reputation as a calorie bomb, nuts should never be avoided in diets – because contrary to these prejudices, they can even support weight loss:
Some studies point out, for example, that the targeted consumption of nuts can help you lose weight. Walnuts, for example, are said to change the way our brain perceives food. Thus, a daily portion of walnuts could help us to reduce our appetite for high-fat foods and thus help us lose weight.
Nuts can also help to naturally stabilise the blood sugar level and thus prevent the dreaded attacks of ravenous hunger. In addition, the high content of fats, proteins and fibre ensures a long-lasting feeling of satiety.
Despite these positive properties, it is important to incorporate nuts into the diet in a targeted and dosed manner so as not to consume too many calories. Ideally, about a handful should be consumed – it is best to vary the nut varieties regularly to cover all nutrients.
Nuts as topping for your breakfast – delicious and healthy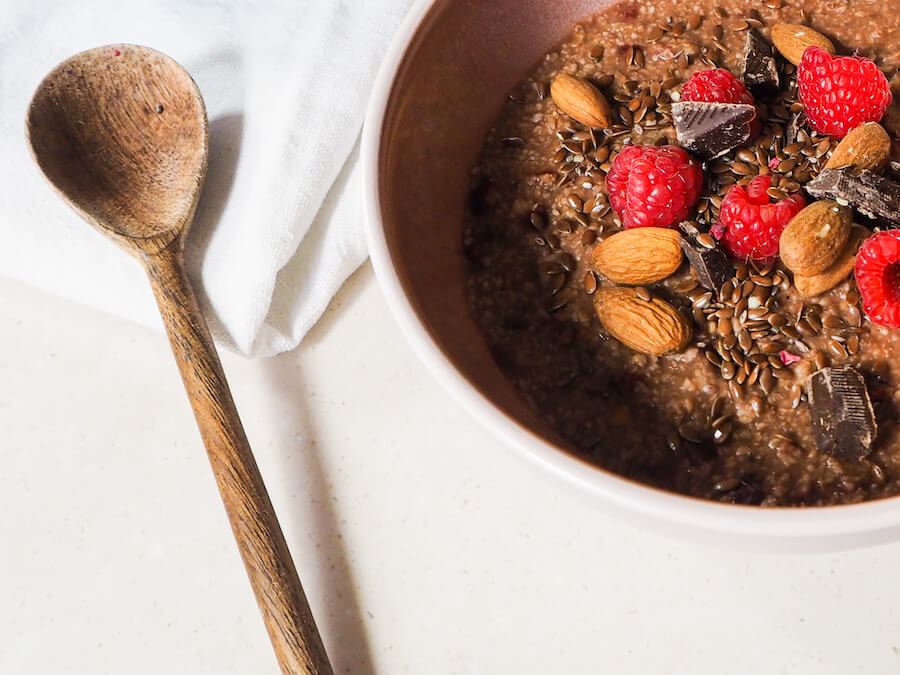 A particularly easy way to incorporate the daily nut ration into your diet is to top your favourite cereal or porridge with nuts.
Because nuts as a topping for porridges or smoothie bowls not only provide a unique taste and a crunchy bite, but also supply you with important nutrients. Thus, they are an ideal companion for your breakfast and an energetic start to the day.
But nuts not only look good in the breakfast bowl, they can be used in many ways. For example, how about a homemade hazelnut cream? The recipe is not only super easy and quick to make, but also has the advantage, unlike nut nougat spreads from the supermarket, that you know exactly what's inside:
Print Recipe
Healthy vegan hazelnut chocolate spread
Ingredients
90

g

hazelnuts

120

ml

plant-based drink

15

g

cocoa powder

1

tsp

vanilla extract

2

tbsp

agave syrup or maple syrup

1

pinch of salt

coconut oil
Instructions
First put the hazelnuts in your blender or food processor and grind them.

Then add the remaining ingredients to the mixer until you have a creamy mixture.

You can eat the vegan hazelnut cream immediately. You can use it, for example, as a spread for your breakfast bread or to refine your porridge or overnight oats.

It is best to keep the spread in a preserving jar. It will stay fresh for about 3-4 days.
Nutrition
Calories:
140
kcal
|
Carbohydrates:
6.6
g
|
Protein:
3.2
g
|
Fat:
10
g
Previous post
7 reasons why hazelnuts are healthy
Next post
Recipe: Porridge with Water
Products from this post
A colourful blend of dried berries and nuts
See details
Work Out
Content
150 gram
(€25.93 * / 1000 gram)
Delicious nut mix with a complex blend of flavours
See details
Early Bird
Content
150 gram
(€31.27 * / 1000 gram)
Smart Start
Content
200 gram
(€23.45 * / 1000 gram)