Recipe: Overnight Oats according to Bircher
July 1, 2022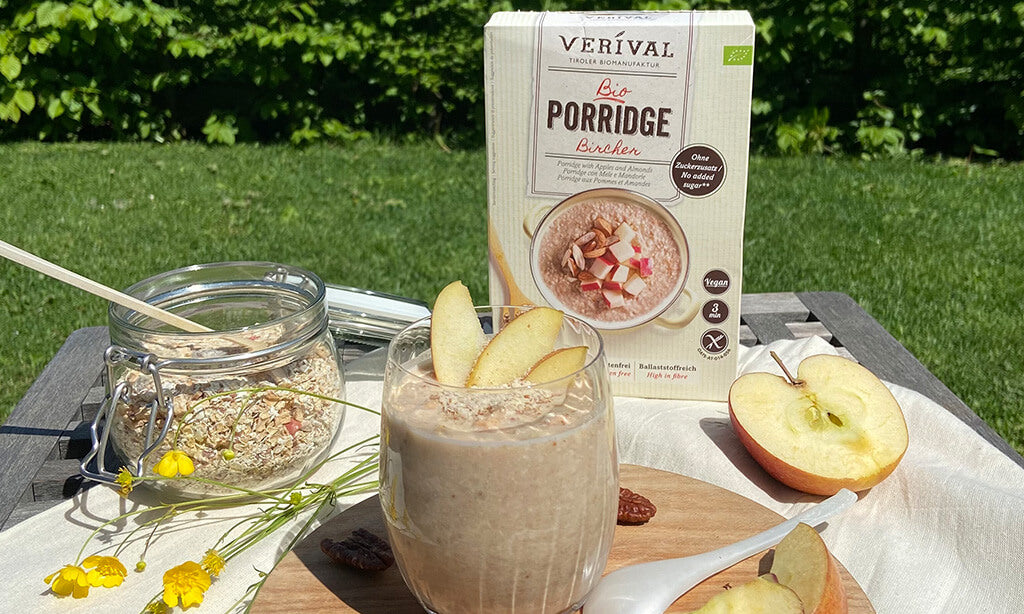 The beginnings of Bircher muesli go back well over 100 years. Nowadays, Bircher Muesli comes in many different varieties, but most recipes stick to the following basic ingredients: Oat flakes, milk, apples, grated nuts and some lemon.
At Verival, you can find the classic Bircher Muesli as well as our popular Bircher Porridge, which are based on the original recipe.
You can reinterpret the classic Bircher Muesli by preparing it as Overnight Oats, for example. The porridge mixture is prepared the evening before and you receive your creamy Overnight Oats in the morning.
Print Recipe
Recipe: Bircher Muesli Overnight Oats
Creamy Overnight Oats according to the original Bircher recipe – try them out right now!
Ingredients
50

g

Bircher Muesli

120

ml

(plant) milk or water

some

nuts (any kind – your choice)

e.g. e.g. pecans or almonds

some

apples of your choice
Instructions
Put the Bircher Porridge in a jar.

Then add 120 ml of a liquid of your choice and mix the ingredients well.

Put the jar in the fridge overnight or for at least 3 hours.

Stir the porridge mixture again well before eating.

When your Overnight Oats are nice and creamy, they are ready.

Now you can refine your Overnight Oats with nuts of your choice and an apple.
Notes
If you notice that the porridge mixture is too firm, add some more liquid.
Overnight Oats are versatile
However, this delicious breakfast can be prepared in more than just the classic Bircher Muesli variety. Verival offers numerous porridges that are ideal for your summer overnight oats. Discover the wide selection right now in the shop!
Previous post
Recipe: Fruity Overnight Oats
Next post
Simply make your own oat drink - recipe
More from this category Recipes