Sustainable packaging at Verival
February 19, 2021
To be perfectly honest, the packaging design for our mueslis, porridges and granolas has always been especially important to us here at Verival, and we have to admit that we're very proud of the results. After all, the feedback we receive about our visuals is overwhelmingly good.
It goes without saying, however, that packaging has to do a lot more than just look good. It's no coincidence that one of the most frequently asked questions about our packaging is: why are we still using plastic?
To answer that question, we'd like to take a closer look at the topic of packaging to give you a better idea of the many and complex considerations it involves.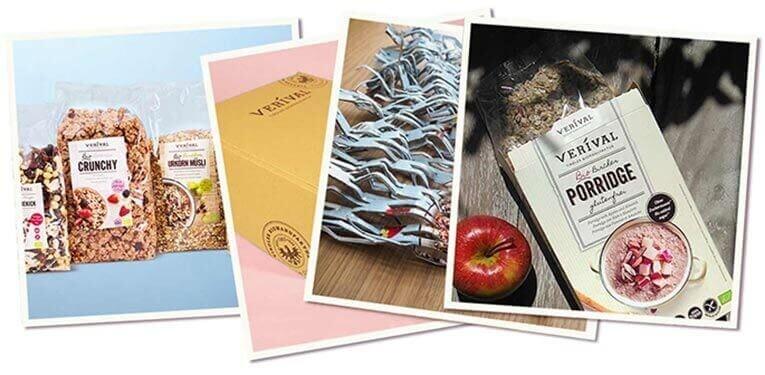 What types of packaging does Verival use?
Let's start with an overview of all the different packaging types and materials we use for our breakfast products:
a clear plastic bag for our extra-large packs, flaked products and single-portion packs
a plastic bag inside a folded cardboard box for our standard-size packs of muesli, porridge and granola and our seed mixes
outer cardboard boxes to provide stability during transport and for shipping of orders from our online shop
recycled cardboard filler for packaging of orders from our online shop
Verival packaging: 6 key considerations
Best be on the safe side. And keep the contents fresh for longer.
"Made for Recycling" is the new "compostable packaging".
Know your ingredients.
Use every millimetre.
Let people see inside.
We aim to be first.
1. Best be on the safe side. And keep the contents fresh for longer.
The main purpose of packaging is obviously to protect the contents from external damage for as long as possible. And (unfortunately) plastic is still the material that best fulfils that purpose.
It protects the contents from moisture and microorganisms and forms a barrier between food and the environment. In this way, optimum shelf life can be guaranteed – a requirement that is also extremely relevant for reasons of sustainability. After all, the sooner a food product reaches its best-before date, the sooner it will be disposed of.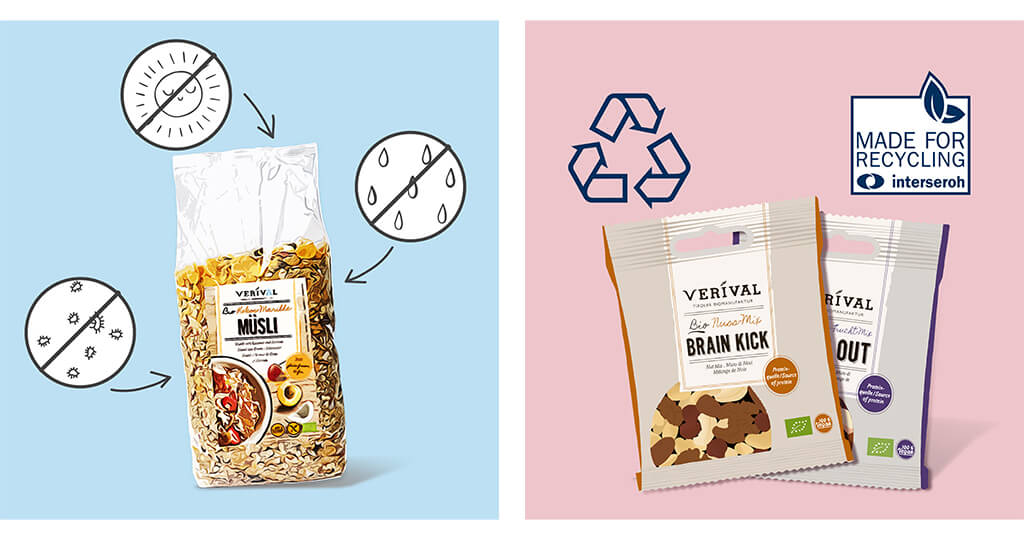 Global food waste is a significant contributor to climate change. Around a third of all food worldwide is thrown away, despite the fact that more of the planet's natural resources are consumed every year than its ecosystems can replenish – some of them for the production of that very same food.
To cut a long story short: packaging decisions always involve some kind of trade-off. Do we want to use biodegradable packaging materials and thus reduce the shelf life of mueslis and other breakfast products? Or do we continue to use conventional plastic, even though it doesn't start to break down for several hundred years?
2. "Made for Recycling" is the new "compostable packaging".
Despite all the negatives associated with plastic, given the need to keep food products fresh for as long as possible there are currently still no ecologically viable alternatives.
Conventional plastic vs. so-called biodegradable packaging
Cellulose film, the compostable alternative to plastic currently available on the market, is theoretically biodegradable, though definitely not in your home biowaste bin or compost heap. That's because neither of those produce the amount of heat required for the material to break down properly. If it is disposed of with conventional biowaste, it cannot decay and forms a sticky mass. And if the correct waste disposal facilities are unavailable, it cannot be said to be a sustainable solution.
Recycling is the future
We're absolutely convinced of that. Because the aim must be to prolong the lifecycle of existing materials for as long as possible, so that fewer resources are consumed to produce new materials. Our key criterion when selecting packaging is thus recyclability, and we're delighted that our breakfast products have been awarded the "Made for Recycling" quality seal.
What does "Made for Recycling" mean?
"Made for Recycling" is an official quality seal for packaging that has been optimised for recycling. The packaging is evaluated on the basis of a standardised system of criteria developed by environmental services provider Interseroh together with the bifa environmental institute and verified by experts at the Fraunhofer Institute for Process Engineering and Packaging (IVV). The evaluation looks at the entire after-life process chain, including collection, sorting, recycling and reprocessing of the packaging material.
3. Know your ingredients.
No matter whether you're a long-term follower of our brand, tried your first Verival breakfast very recently, or have only just found out about us, you're sure to have lots of questions about our products. We try to answer the most important ones on our packaging, so you can find all relevant information at a glance while you're still in the supermarket.

4. Use every millimetre.
The tiniest detail can make a big difference, so in the past year, as well as making a few visual improvements to our products, we've also changed something else about our packaging.
Although the content has remained exactly the same, we've reduced the width of all our muesli, porridge and granola packs by about 3 millimetres so we can fit more packs onto each pallet.
The table demonstrates the impact of this small adjustment. It shows the number of packs of granola and porridge in a lorryload before and after optimisation:
| | | | |
| --- | --- | --- | --- |
| | Number of packs transportable before optimisation | Number of packs transportable after optimisation | Improvement in % |
| Porridge | 31,680 | 38,016 | +20 % |
| Granola | 27,720 | 33,264 | +20 % |
It is now possible to transport 20% more packs of both products in each lorryload. This minor adjustment, which as likely as not went unnoticed, ensures optimum utilisation of the space available on transport pallets, which in turn has a very positive impact on our carbon footprint.
5. Let people see inside.
Wherever space allows, all of our bag-in-box packs have a transparent window that allows you to see whether you like the look of our muesli in the supermarket before you buy. After all, we eat with our eyes, as the saying goes.

6. We aim to be first.
Packaging and recycling is one of the sectors where a lot is happening is right now. Our policy is thus to keep a close eye on developments so we can be first when it comes to further optimising the recyclability of our packaging.
#frühstück
#packaging
#sustainability
#sustainable packaging
#Verival
Products from this post