10 tips on how to produce less waste
March 12, 2020
We all know that it is important for the environment to avoid waste. What sounds complicated, however, is actually not. In this blog post we will introduce you to simple methods of how you can produce less waste without much effort and thus do something good for the environment.
1. Use up leftovers
Did you know that a third of all food goes to waste? We think that we all know it when we go shopping hungry and therefore buy too much. After a few days, the overbought food is no longer beautiful, but too beautiful to throw away.
So, our first tip on how you can avoid waste is using up leftovers. Because recycling leftovers is not only sustainable, but you also save money.
We advise you to always make a list before you go shopping so that you only buy what you really need. Never go shopping hungry, this way you will automatically shop less. To create a shopping list, it often helps to create a Weekly Meal Plan, a plan where you write down when you plan to cook which meal. With a Weekly Meal Plan the shopping list is created in no time.
We must also address the issue of best before dates at this point. Because not all products that have exceeded their best before dates must be automatically thrown away. For many foods, it is sufficient to smell and taste them to determine whether the products are still edible.
In our blog post on the topic "How you can use your food leftovers creatively and deliciously" we also give you 3 tips on how you can avoid or reduce food leftovers.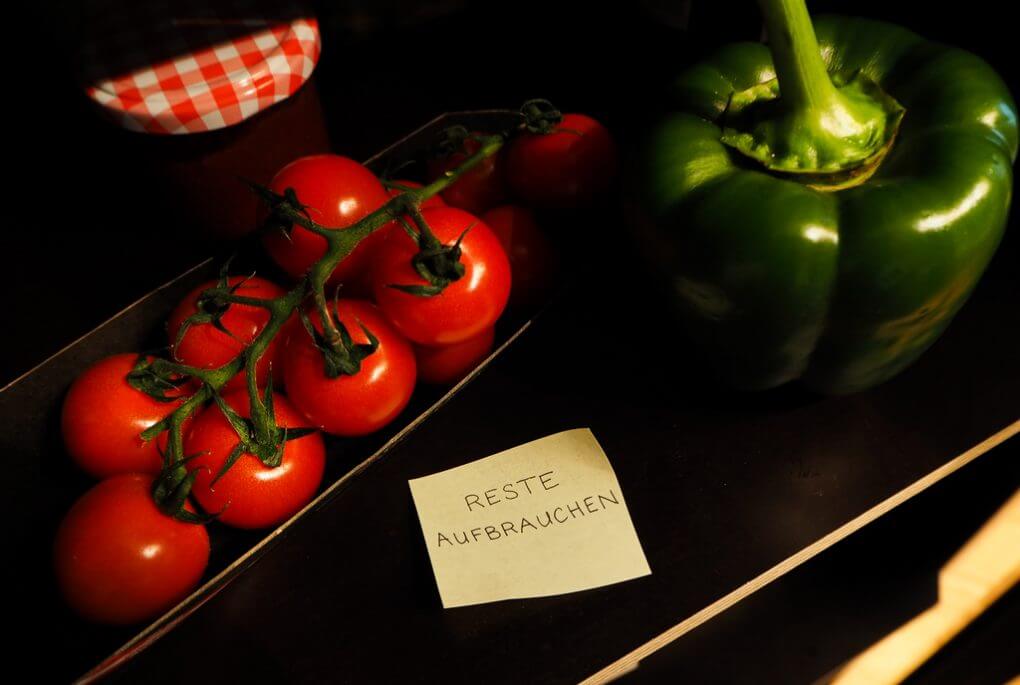 Our Verival breakfast products are also very easy to use up. For example, you only have half a portion of porridge and half a portion of crunchy left? Then mix the porridge and use the crunchy as a crispy topping.
2. Tote bags instead of plastic bags
We all know it. You go shopping spontaneously and of course you do not have a tote bag with you. And it would be so simple: just put a bag made from cotton in your pocket and you always have one with you. With this simple trick, spontaneous shopping no longer leads to unnecessary plastic bags of which you already have a felt 1,000 at home.
In addition to tote bags, baskets or backpacks are of course also ideal for sustainable shopping. With food such as fruit and vegetables it is in any case super easy to transport them without using a plastic bag. Simply place the products in the tote bag, basket or backpack you brought with you and you have already avoided producing waste.
Our Verival tote bag
The Verival bag made from 100% organic cotton fits in every backpack and handbag – every day. It is a small, simple step towards more sustainability in everyday life.
3. Zero waste shops
Those who shop in zero waste stores go one step further. These are shops where you bring your own containers and fill them with everyday foods such as oatmeal, flour or nuts. This way you greatly avoid having to use packaging material. In addition to zero waste shops, we also advise you to buy fruit and vegetables at weekly markets.
4. Reusable to-go cups
Nothing can be said against buying a coffee to go in the morning on your way to work. However, it is recommended to use a reusable to-go cup for the morning pick-me-up. It can simply be washed and reused. With this trick you can easily avoid plastic waste.
And what do you do if you forgot to bring your reusable to go cup? Why not take the time to sit down for coffee. And if this is really not an option, we recommend not using the plastic lid.
Many bakeries or cafés now even sell their own branded reusable cups. You only have to invest once, and you are already doing something good for the environment. 
Coffee at home
For at home we recommend using a filter coffee machine or a fully automatic coffee machine. Capsule coffee makers produce unnecessarily waste, need a lot of energy for production and are therefore absolutely not sustainable.
And what about food?  
If you take food to school, university or work, we suggest that you do not use aluminium foil, but pack the food in cans or even Tupperware containers.
Instead of aluminium foil we recommend beeswax cloths.
5. Tap water
Especially in countries like Austria or Germany, where tap water can be drunk without problems, it makes sense to fill up glass bottles over and over again instead of buying new plastic bottles every time. Drinking from plastic bottles and throwing them away after is of course not sustainable. We recommend for example the brand soul bottles.
6. Sharing rather than owning
Just the other day we shared a bag of carrots at work, as they are only available in large quantities. So why not buy a larger pack more often and then share it? With this method you not only save money, as larger packages are usually cheaper in proportion, but you also produce less waste.
Even objects, such as tools, can be easily shared with the neighbour. We also recommend giving shared newspaper or vegetable subscriptions a try.
At Verival we know that families often need larger quantities of cereal in the morning. Our XXL packs are ideally suited for this purpose. The whole family can have breakfast together. Our XXL packs are definitely environmentally friendly. They have a larger content and therefore you have to order or buy them less often. This saves CO2 and additional packaging waste.
7. Secondhand shopping
Additionally, not everything has to be bought brand new. From clothing to cars, just about anything can be purchased second hand. This also saves money and avoids additional waste. However, it is not only possible to buy used equipment, but also to resell it. Simply resell or give away your old mobile phone or other electrical appliances instead of leaving them in the drawer.
8. Repairing instead of throwing away
There are so many products that can easily be repaired. Not everything has to be thrown away when it's broken. Especially our generation tends to simply throw away socks instead of simply darning them. But also, other clothing items do not have to be disposed of if they get a small hole.
For example, if our iPhone screen is cracked, why not just get the phone fixed? Even shoes used to be taken to the shoemaker rather than thrown away. Often it pays off to buy a pair of good quality shoes and have them repaired by a cobbler if necessary, rather than having many cheap shoes that don't even last a season.
Because the longer products such as clothing, shoes or mobile phones are used, the less has to be thrown away and therefore, less waste is produced.
9. Swapping instead of throwing away
Just about everything can be exchanged, from books to clothes and toys. So-called dress exchange parties are ideal for exchanging clothes. You meet with friends, everyone takes a few pieces that he or she no longer wears, and then you swap. Every participant gets something new, but nothing has to actually be produced and no extra waste is produced. You also save money! Sustainability can be that simple.
10. Refilling instead of buying
For many products it pays off to refill them instead of buying completely new ones. This includes, for example, many body care products. There are also refill packages for items such as washing powder or spices. Just as care should be taken to refill products, you should buy those that can be refilled.
Just as important as it is to produce less waste, it is to recycle. Because recycling is sustainable. Residual waste is simply incinerated, greenhouse gases are produced, and raw materials cannot be reused. However, if items are recycled, they can be reused.
Even better than recycling, of course, is simply to avoid disposable products such as cotton pads or drinking straws altogether. They are only used for a short time and then last for a long time. Today there are already so many alternatives, for example reusable cotton pads.

We really hope that we could give you some tips in our blog post. Of course, not everyone has to stick to every rule, but if everyone makes just a small contribution, the whole world will become more sustainable! Because together we can achieve great things.
Previous post
Good or bad carbohydrates - how to tell the difference
Next post
Recipe: Raspberry Chia Pudding
#Verival
#Verival
#verival frühstück
#verivalbio
#verivalbio
Products from this post
More from this category Nutrition
More from this category Recipes