What you should know about berries
June 4, 2020
Breakfast
Gesund leben
Healthy lifestyle
Nutrition
As one can already guess from their names, popular fruits such as strawberries, raspberries, blackberries or currants and cranberries are considered berries. But is this true, purely scientifically speaking? If you take a closer look, you will see that there are differences.
We will get to the bottom of this and clarify what to consider when buying berries. We will also explain why berries are good for your health in general and for your memory and heart in particular.
And as a bonus, you can look forward to tips on the correct storage and processing of the small fruits. Properly frozen berries last forever, so you don't have to go without them even in winter. Porridge with berries tastes simply fantastic.
Why are berries so healthy?
Berries contain water-soluble plant substances with antioxidant effects. They repair damaged body cells and protect the body from damage by free radicals.
The darker the berries, the more secondary plant substances they contain. The phytochemicals that give the small fruits their rich colour have an anti-inflammatory effect and strengthen the immune system. So, the darker a berry, the healthier it is.
Just one bowl of berries a week strengthens the immune system and can improve memory. Berries are also healthy for your eyes and teeth. They are rich in vitamins, fibre and minerals. At the same time, they are low in calories.
No matter whether you use berries as a topping for porridge or enrich your muesli with delicious berries: both makes your breakfast super healthy. Oatmeal has a beneficial effect on the heart and circulation. And berries combine a whole range of health-promoting aspects. Also they taste good and can be combined as you like. Sounds irresistible, doesn't it?
What types of berries are there?
Indehiscent fruits
According to botany, only fruits that have emerged from a single ovary count as berries. They are grouped together under the scientific name of the indehiscent fruit.
Indehiscent fruits are characterized by a complete pericarp – even during ripening. Sounds very complicated, right? More simply explained, "real" berries can often be recognized by their appearance: They are round, brightly colored and usually have more than one seed.
Indehiscent fruits include the following:
Red currants, white currants and black currants
Cranberries
Blueberries
Grapes (the good old grape)
An interesting side note: cucumbers, tomatoes, stone fruits – peach or apricot – and even bananas are also classified as indehiscent fruit.
Aggregate fruit
Strawberries, raspberries or blackberries, on the other hand, are considered aggregate fruits. According to science, these are fruits that are produced by the intergrowth of individual fruits. These single fruits all originate from a single flower.
No matter whether they are indehiscent fruits or aggregate fruits, they all taste good and are healthy. You can prepare berries in many ways. You can make jams out of them, but they also taste great in your daily muesli.
You can use berries as toppings of your porridge or yoghurt and enjoy a healthy breakfast. Of course, berries taste good not only early in the day. In between and as a nutritious dessert in the afternoon, berries can also be used to make all kinds of delicious meals.
Healthy berries – ingredients and special effects
We have already established that berries are healthy. But what exactly makes them so valuable for our well-being?
Berries are rich in vitamins, fibre and minerals such as potassium, iron or magnesium. In addition, they have secondary plant substances that fulfil special functions in the body. Some berries also have anti-inflammatory properties.
Incidentally, many berries consist mainly of water. This means that they are low in calories and just right if you want to pay attention to your figure and a conscious and healthy diet.
Some berries have a pleasant sour taste and can therefore be specially mixed with sweet berries.
Which berries are the healthiest?
Especially exotic berries are considered to be great power sources in terms of health and well-being. These include acai berries from Brazil, goji berries from China and cranberries from North America. They are now all part of the standard range in Europe, too.
Domestic indehiscent fruits and aggregate fruits also have quite healthy side effects. And they not only taste good when freshly picked but can also be frozen easily.
The following delicious berries are particularly nutritious and healthy
Blueberries: These tasty berries owe their deep blue colour to the colouring agent myrtillin. This neutralizes free radicals and prevents cancer and heart disease.

In addition, the consumption is said to have a positive effect on the appearance of the skin. How nice that we find plenty of blueberries in the Tyrolean mountains and can add them to our muesli mixtures!
Strawberries: Although they are 90 percent water, strawberries are aromatic and deliciously juicy. They have an above-average vitamin C content. They are also rich in antioxidants, which are said to prevent cancer and improve memory.

And due to their high water content, strawberries help you loose weight. The more sun they get, the more aromatic and fruity they become. So you should be patient and not harvest them too early.
Raspberries: Despite their compact size, these slightly prickly fruits are not stingy with healthy ingredients. Raspberries contain numerous minerals and trace elements as well as antioxidants.

They are bursting with B vitamins, which are important for our metabolism. So raspberries are also healthy for bones, teeth, heart and circulation. With a water content of 86 percent, they are almost on a par with strawberries.

By the way: Raspberries are considered one of the oldest cultivated plants in our latitudes. Hildegard von Bingen was already aware of their effects. And as we all know, this lady knew what was healthy.
Blackberries: These fruits are particularly rich in vitamins and contain twice as much vitamin E as other berries.

Blackberries are also rich in vitamin C and provitamin A, as well as magnesium, calcium and potassium. The dark berries also detoxify and lower blood pressure.
This list does not mean, of course, that other berry varieties are not perfect for a healthy diet.
Strengthen heart and memory with berries
Just one bowl of fruit a week strengthens not only our heart and memory, but also our immune system, eyes and teeth. According to a study by the Harvard School of Public Health, eating a bowl of strawberries or blueberries every week reduces the risk of having a heart attack by a third. The study blames antioxidants for this positive effect.
Our memory also benefits from consuming berries regularly. At least that's what a US study in which 16,000 women participated says. It was proven that berries are full of active ingredients that stimulate parts of the brain to the point that memory performance increases by up to 25 percent.
What should I consider when buying berries?
When you buy berries, you should make sure that they are firm, dry on the outside and without dents. Berries are very sensitive to pressure.
And thanks to their high-water content, they mold faster as soon as they are even minimally damaged. If you buy or harvest large amounts of berries, you should cook them immediately or freeze them for later consumption.
How can I best enjoy my berries?
In our latitudes many delicious berries still grow wild in the forest or at higher altitudes. You can grow them in your garden or on your balcony. It's a perfect way to eat them freshly picked in summer or to make jam out of them or other delicacies.
Most berries can also be frozen. This way you can build up a stock for the cold season and prepare your berries later in time. After all, who says that you have to do without healthy and delicious berries in winter?
In the next paragraph you will learn what you should keep in mind when storing berries. After all, they should really last a long time without losing their taste or effect.
Just try your homemade berry fruit sundae for the summer?!
Simply mix any berries such as raspberries, blueberries, currants, blackberries or strawberries in a blender. Depending on the consistency you can add some liquid. Pour the whole thing into an ice cream mold and put it in the freezer. The taste of this berry fruit ice cream is perfect for every summer day. Healthy, many vitamins and it also tastes good.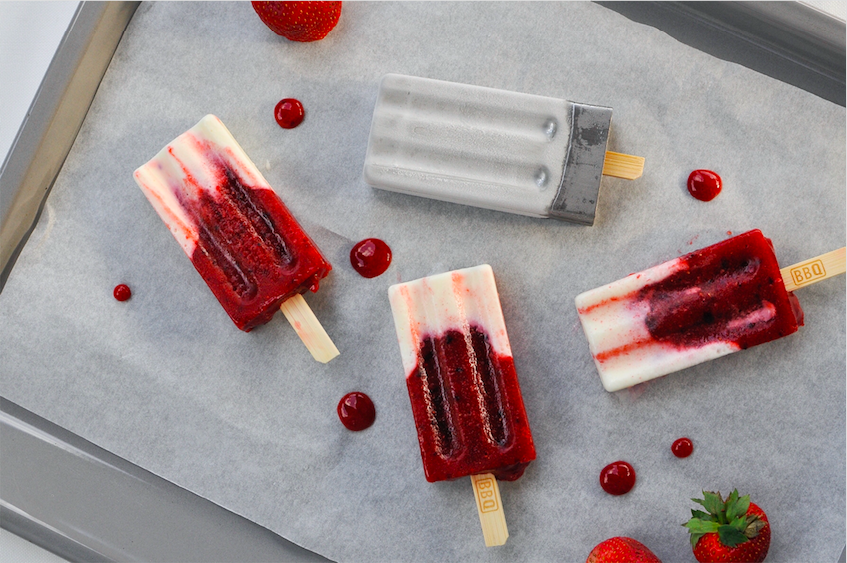 What is the best way to store berries?
You should consider the following things regarding the correct storage of berries: After cleaning the berries in standing water, we recommend that you immediately place them on kitchen paper to dry. This will ensure that they will not get damaged and that they do not become saturated with more liquid.
Since they only stay fresh for a few days in the refrigerator, you should either freeze or boil down fresh berries.
How do I freeze berries properly?
Even if you want to freeze berries (raspberries, blueberries, currants, blackberries and strawberries), there are some points to consider. Due to their high-water content, they often become muddy quickly after thawing.
A good tip is therefore to freeze the outside of fresh fruit and nuts in layers (on a sheet or paper). Only then you should freeze the berry fruit together in a bag.
This way you can look forward to undamaged fruit even after defrosting and prepare the berries the way you like them best. Full taste in every season!
When should I eat berries?
Berries taste good during the whole year and at any time of the day. However, they taste especially good in summer (June, July and August). Depending on the variety, this can be delayed by a few weeks or months. While the first strawberries already ripen in May, blackberries can be harvested from June to September and even October.
How many berries should I eat per day?
Before you start counting berries one by one, we want to give you a tip: Berries are healthy, but the same directive applies as to fruits in general: since they are full of fructose, they should not be eaten in excess.
You can definitely eat all of them. No matter if raspberries, blueberries, currants, blackberries or strawberries. If you like you can also mix them.
Around 300 grams per day is the rule of thumb. And these 300 grams correspond with almost 2.5 cups. Just take an empty cup, fill it with berries 2.5 times and you have an approximate idea of your daily ration. Sounds easier than counting, right?
Delicious berry recipe
For the berry porridge you can use the berries and fruits you prefer, for example, raspberry, blueberry, currant, blackberry and strawberry.
Print Recipe
Porridge with berries
Ingredients
50

g

oat flakes

250

ml

(plant) milk

1

pinch

of salt

1

teaspoon

agave syrup

150

g

berries (fresh or frozen)
Instructions
First, put the oats in a pot with a pinch of salt and the (plant) milk and let it boil up briefly. Stir briefly again and again.

Then remove the pot from the heat and add a teaspoon of agave syrup.

Then let the porridge steep for about 2-3 minutes.

In the meantime, wash the berries well, then put them in a bowl and puree them with a hand blender. Alternatively, you can also puree the berries in a normal blender.

Then put the porridge in a bowl, add half of the pureed berries and stir well. Finally, pour the remaining berries over the porridge.
Nutrition
#berries
#healthy breakfast
#Porridge
Products from this post