Porridge in the summer? Yes, absolutely!
May 14, 2021
Porridge has been enjoying increasing popularity for several years. Not only in the fitness sector it has become one of the most important energy providers, also in normal everyday life more and more people reach for the healthy porridge.
And also for all those who still believe that porridge is simply boring oatmeal, we have a few tips in store today – because porridge is and can do so much more. With the right toppings and flavors, porridge for breakfast becomes a real energy kick!
How healthy is porridge really?
This question has been answered by many people before us. Thus, science is quite unanimous here. Porridge is very healthy. Oats are the most valuable cereal of all. The nutrients in porridge contain lots of fiber, vitamins, protein and minerals.
This combination of nutrients makes porridge really an energy bomb and extremely healthy. Because the flakes are also low in calories, they are also popular with particularly figure-conscious people, as they are still well satiating and provide strength.
Porridge with gluten intolerance – yes or no?
Should you be gluten intolerant or sensitive and therefore fear that the cereal porridge does not agree with you, we can reassure you: Basically, oats are low in gluten.
Only if it is t can only be a problem if it comes into contact with other cereals containing gluten during cultivation and processing. Therefore, when buying oatmeal, always look for the gluten-free seal – then you can be sure that you tolerate the correspondingly labeled oatmeal variety well.
Naturally healthier – with porridge
Porridge really is a superfood. So the regional cereal product can really score on the full. Not only does porridge have a lot of nutrients at the ready – it can also help improve health problems. In fact, porridge can lower your blood sugar and cholesterol levels.
In addition, you are at a lower risk of cardiovascular disease if you eat porridge regularly. But porridge can be prepared not only as a hot dish – because Overnight Oats have something to say about it.
Overnight Oats – the porridge for summer
Ideal for all morning grouches: the Overnight Oats. As the name suggests, they are prepared overnight – but more on that later! But how healthy are they really and what's the difference to classic porridge?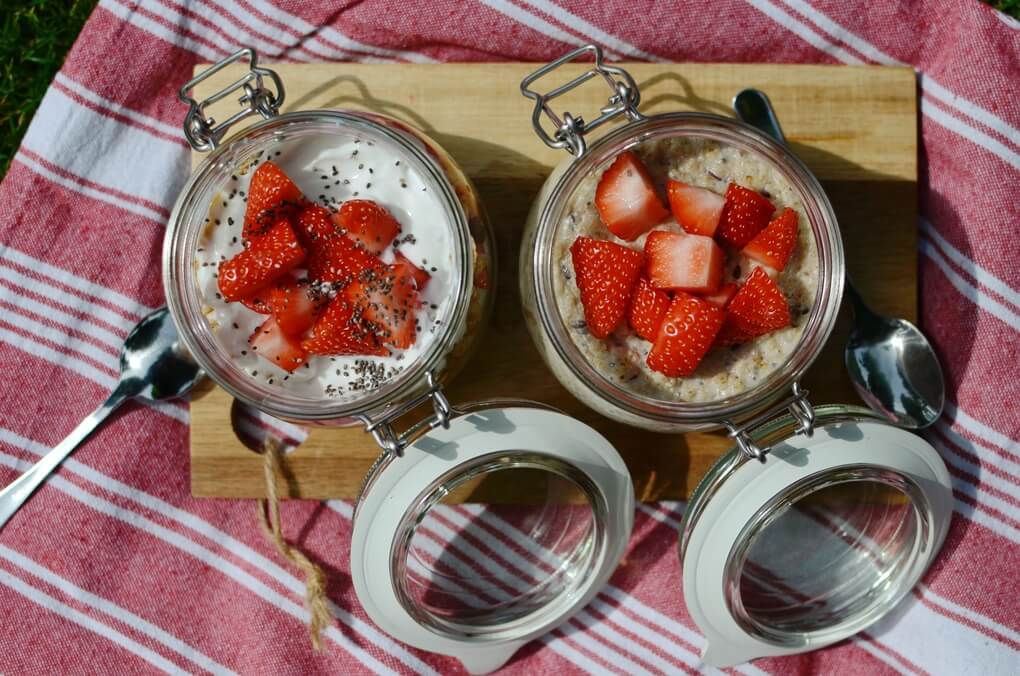 How healthy are Overnight Oats?
Basically, Overnight Oats and Porridge are very similar – the only difference is that Porridge is prepared and eaten warm and Overnight Oats cold. However, in terms of taste and also their positive effect on the body, the two delicious breakfast dishes are very similar.
Overnight Oats also stimulate your digestion and give you – supplemented with the right toppings – a large portion of vegetable protein. They also keep you from cravings and contain a lot of fiber. All in all, a quick and healthy power breakfast!
How do I make Overnight Oats?
The preparation is very simple. The name already gives most of it away. You take your favorite flakes and soak them overnight in milk, yogurt or plant-based alternatives. Spices like cinnamon or turmeric add a special flavor.
In the morning, before eating, simply add toppings of your choice – such as seeds or nuts, or fresh fruit for that extra dose of vitamins – and you've got the perfect start to the day on your breakfast table.
Print Recipe
Basic recipe: Overnight Oats
The basic recipe for Overnight Oats is super simple – you only need 2 ingredients.
Ingredients
4

tbsp

oat flakes

(approx. 45g)

80

ml

water, milk or a plant-based alternative
Instructions
Put the water, milk or plant-based alternative into a glass together with the oat flakes and stir well.

Put the mixture in the refrigerator overnight or for at least 2 hours.

Stir well once again and enjoy.
Notes
We recommend to sweeten the overnight oats with honey, agave syrup or maple syrup and to decorate them with fruits, nuts and seeds.
Nutrition
Did you know that all of our porridges and mueslis are also perfect as a base for Overnight Oats?
Is a warm breakfast healthy even in summer?
As soon as it gets hot outside, the desire for a warm breakfast fades – maybe you'd rather enjoy a cold smoothie or yogurt with muesli and at least feel like you're cooling off for a short while? While this may sound tempting to you, it can actually be an extra strain on your body, especially in warm temperatures.
To compensate for the temperature difference, it needs a lot of energy. So the best start to the day is a warm one – even in summer! In general, warm breakfast is really healthy. A cup of tea or a bowl of porridge will help you in this.
What toppings can I use for porridge in the summer?
Especially for the summer you want to eat light and fresh food. What is always perfect for porridge? Fruit! As an organic company, we are of course always fans of local fruit.
Whether it's berries, apricots, cherries, nectarines or peaches, there's a huge selection to choose from in the summer! To give your breakfast that extra kick, you can refine your oatmeal with chia seeds and coconut flakes.
There are no limits to your imagination. And if you're already in the mood, we have a delicious fruity porridge recipe for you:
Print Recipe
Oatmeal with chocolate and fruity toppings
Ingredients
50

g

porridge

95

ml

water or milk

1/2

tangerine

raspberries

or berries of your choice

dark chocolate
Instructions
Porridge pour hot water, milk or vegetable drink and infuse for 3 minutes.

Meanwhile, wash the berries and peel the tangerine. Cut or break the chocolate into small pieces.

Top the porridge with fruit and stir in a few chocolate chips if desired.
Nutrition
Previous post
Porridge for children - a healthy start to the day
#healthy breakfast
#healthy porridge
#Porridge
#recipe porridge
#summer porridge
#summer recipes
More from this category Breakfast