Recipe: Topped Green Protein Waffles
May 4, 2021
Often you are very stressed and have no time to stand long in the kitchen and prepare a healthy snack for in between or before sports. Our solution: Green Protein Corn Waffles. A quickly prepared protein snack that is also healthy and tastes good.
Our Green Protein Waffles are vegan, gluten-free and high in protein. You can eat them just as they are or top them with a few ingredients to spice them up a bit. Not only are they great as a snack, but they're also perfect as a healthy breakfast in your sports diet.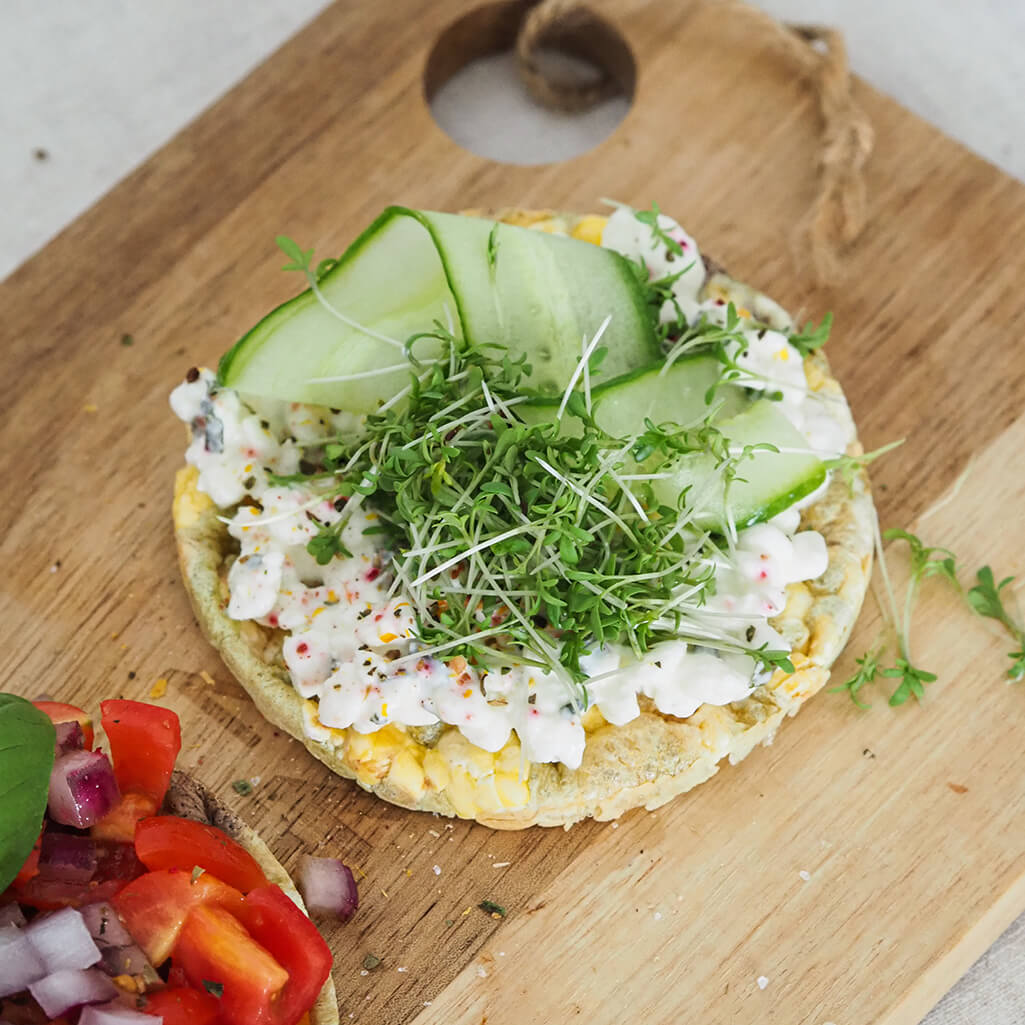 Vegan Green Protein Waffles
Corn is basically a very healthy food, which is characterized by a high content of vitamins. The Verival Green Protein Waffles consist of 46% legumes such as peas, beans, lentils and chickpeas. These provide a super taste and still have a high protein content. Over 18g of protein provide 100g of the waffles. So the perfect healthy snack before or after exercise.
Vegan protein provides your body with vital amino acids and thus supports important cellular metabolic processes. In general, protein is a very important basic ingredient for a balanced diet. The body cannot produce it itself and is therefore dependent on the supply of proteins in the diet. Protein promotes muscle growth and is even said to help with weight loss.
An adequate supply of protein is particularly important for people who are active in sports, because muscles consist largely of protein. One advantage of protein from plant sources is the significantly lower fat and cholesterol content.
Recipe ideas for your protein snack
Green Protein Wafers are perfect as a protein snack between meals, but they also taste wonderful as a bread substitute with various spreads. You can also top them with cottage cheese, cress and cucumbers. As a fan of Italian cuisine, our recipe is suitable with tomatoes, onions and basil, so to speak, bruschetta style.
Topped Green Protein Waffles with Cottage Cheese
Ingredients
1

green protein waffle

4

teaspoon

cottage cheese

cress

cucumber
Instructions
Spread cottage cheese on top of protein waffle.

Put a little cress and cucumber slices on top.
Furthermore, you can also top the waffle with bell peppers, carrots or even lettuce and radishes. In principle, almost any type of vegetable can be used as a topping, depending on what you just feel like.
Print Recipe
Topped Green Protein Waffles with Tomatoes
You can prepare your protein snack according to your mood. We want to show you two simple and quickly prepared variants.
Ingredients
1

green protein waffle

4-5

cocktail tomatoes

1/4

onion

basil

olive oil

sea salt
Instructions
Cut tomatoes and onion into small cubes and mix with a dash of olive oil and sea salt.

Top Green Protein Waffle with the mix and add a little basil.
Previous post
Oatmeal - why it's the best breakfast for weight loss
Next post
Chocolate crunchy breakfast muffins
Products from this post
More from this category Recipes